We, Irina Titova and Katrin Edtmeier, have got to know each other through a joint project and quickly realized that we perfectly complete and enrich each other:
A great artist with a stunning talent combined with 20 years of experience in the event area.
The desire to create outstanding concepts with heart and mind unites us. In this way we can create something unique for our customers and the audience.
We look forward to hearing YOUR story!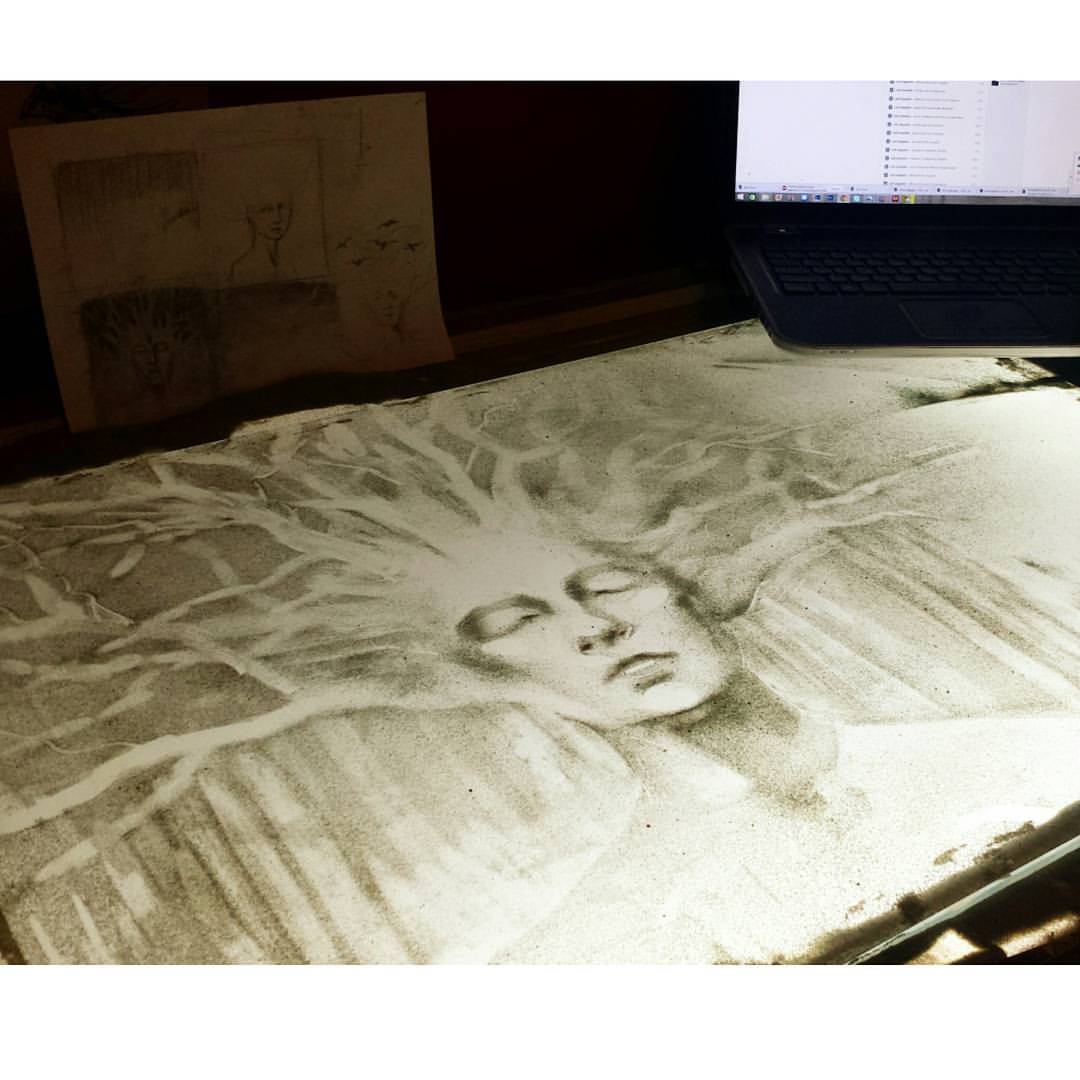 I started to work with sand in 2009. The first time I tried out this material, I realized that this would be my way of life and creation.
MY PROJECTS
2017 "Pegasus Award" Light Show, Linz
2017 Live Entertainment Award, Sand Performance Show, Frankfurt am Main
2015-2017 Sand-shows all over Europe: Hamburg, Berlin, Vienna, Linz, Augsburg etc.
2016 Show producer for Elbarkaden Shows, Hamburg
2015-2017 Sand art shows for e.g. Phillips, Hanse Mercure, Porsche, Volksbank, Birkenstock etc.
2016 Oil color 3D mapping, "Night of Light" festival, St. Petersburg, Russia
2014-2016 Sand animation for TV advertising "Bank Otkrytije", Moscow, Russia
2015 Social Advertisement for the Russian Ministry of Culture, Moscow, Russia
2012-2015 "Teatrium", "Bulgakov-Theater", Artistic-Union-House, Moscow, Russia
2014 Live performance together with State Presidential Orchestra, Moscow, Russia
2014 Open-air sand painting show on the Don together with Voronezh State Orchestra
2011-2013 Foundation of 7BIOS Sandstudio in Moscow, Russia
I've been working in the exciting live entertainment business for 20 years now. In these times I have been responsible for the entire organization of major events - especially live concerts. The fascination of live events has never let go. Looking in happy and laughing faces after a successful concert or show enriches my personal life very much.
PROJECTS
Bruce Springsteen, Vienna
Whitney Houston, Vienna
AC / DC, Wels and Vienna
Sting, Vienna
Anna Netrebko & Placid Domingo, Vienna Schloss Schönbrunn
Mamma Mia - The Musical, Vienna
Helene Fischer, Vienna
Rock in Vienna Festival, Vienna
Klassik am Dom, Linz
Simply Red, Salzburg
Bobby McFerrin, Linz & Tulln
Herbert Grönemeyer, Vienna
Andre Rieu, Austria
James Blunt, of Vienna
Depeche Mode, Vienna
Roger Cicero, Vienna
Lord of the Dance, Austria
"Art does not belong to any particular time."
"It doesn't matter whether the art is constant or just a glimpse of a moment."
Every artist should be a medium for the harmony in his world in real time."